Travel tips... To Samos via Athens.
Text and photo: Jan Backstrøm.
As an alternative to charter you can chose some other ways to come to Samos.
Many go from their home country by airplane to ATHENS INTERNATIONAL AIRPORT, ELEFTHERIOS VENIZELOZ www.aia.gr/EN/default.asp.
From the airport there are more possibilities to go on.
The fastest and most easy is to continue with domestic airplane to Samos. Now there are two companies flying to Samos from Athens:
AEGEAN AIRLINES www.aegeanair.com and
OLYMPIC AIR www.olympicair.com.

The cheapest 'one-way' ticket is about 40 € with Aegean Airlines (price autumn 2006). To get this price you have to order as early as possible (at least 1-2 months before). Olympic Airlines is normally more expensive. With both companies the prices raises as the departure date comes closer.

Another alternative is to go by bus or train to Piraeus and by ferry from there. The ferry is the only way to come to Samos if you want to go there by car.
Departure time is normally in the afternoon with arrival early morning in Samos. You can find the timetables on this web address: www.greekferries.gr.
The ferries to Samos leave from Gate E1/E2.

If you have some waiting time in Piraeus we can recommend to take a walk and have a look at the local life and the markets. Walk out of the entrance to Gate E1/E2 and continue towards the big dark buildings in the inner part of the harbour. You have to pass the heavy traffic main road and walk one block up, then you are in the middle of the meat- and fish market. There are a lot of shops in all streets and alleys. Visit them, look at the things and enjoy your time – no aggressive salesmen, no smart compliments and no "special price for you".

In the summertime the ferry can be a very cozy alternative, especially if more people travel together. If you travel steerage it is not expensive, but if you want a little more comfort and want a cabin or so, then the prices start rising fast.
For 2 people, 'flight seat' and car we paid in Sept. 2006 about 185 € one way.
For the return in October with a 2-persons class A cabin the price was 248 €.
The trip with the ferry takes min. 8 hours sometimes more , we have had up to 18 hours, it depends of how many ports have to be visited and the number of passengers. Now in 2010 will the route between Piraeus & Samos be serviced by the ferry "NISSOS MYKONOS". It is a nodern ferry build in 2005.

For some it could be necessary/for others, a choice to stay a day or two in Athens. See 'usefull info' below
May be the airplane schedule does not match, so you have to stay overnight.
There is a international hotel at the airport, the price is high 2-300 €. In the center of Athens are a lot of cheap hotels, but then you have to use bus, train or taxi (do not go there in your car!). Bus and train is cheap, but does not go everywhere.
Taxi takes you everywhere but sometimes the price is rather high. Athens is a very big city, and it is very easy to be cheated. Ask for the price in advance and for a receipt, and if you have been cheated you can call the tourist police tlf. 171.
Information about car type, color and reg. no. are very important.
Taxi from airport to center of Athens takes from 30 min. to 1 hour (depending on the traffic), it is almost the same for bus and train.

We have found a little nice hotel with 12 rooms just east of the airport:


Adr.: Peri's Hotell & Apartments.
25 th March street no 28
GR 19016 LOUTSA
GREECE
Web: www.perishotelapt.gr
Mail: This email address is being protected from spambots. You need JavaScript enabled to view it.

Telephone: 0030 2294083763
Mobil: 0030 6944127435

The owner takes care of the transport from and to the airport nearly 24 hours a day, and it takes only 7-10 min, because he has special permission to drive through the airport area. Taxi takes 25 min!
We have used the hotel and can recommend it. They only serve breakfast, but the nearest taverna is only 300 m. from the hotel.

The price depends on the time of the year. Call or mail in advance and get the price incl. transport if wanted.

As an example: We used 45 min to drive to Piraeus from the hotel. We did not drive through the center of Athens, but via Vari and Glyfada (more south). We are not familiar with Athens and drove there only with the help of the signs and our GPS-navigator!


We welcome you to Samos.
Remember the island also has its charm all season round.


Athens airport



Athens airport



Hotel at the airport



Traffic in Athens



Peri's Hotel



Piraeus skyline


Harbour in Piraeus



Ferry in Piraeus



Express Pegasus, ferry Piraeus-Samos



Packed Norwegian car waiting



Piraeus harbour from ferry.



Cabin on Express Pegasus.

Railway station - Hotel - Departure at the Airport.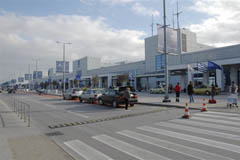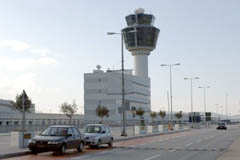 The Arrival & the Control Tower.
Usefull information - Airport & Transport.
Athens International Airport "Eleftherios Venizelos":
General Information/airport call center: 210 3530 000
Airport company call center: 210 3531 000
Airport access:
You can use the Suburban Railway og Metro Line 3.
You can also use Express Buses, X95 from Syntagma (Parliament) or X96 from Pireaus port (plus many other from other destinations).
Tickets for all express buses cost € 3,20, are valid for 24 hours and can be purchased at the airport bus kiosks, Metro terminals and transport kiosk around Athen.
If you stay in Athen for a day or more you can get a day ticket (€ 3,00) or a week ticket (€ 10,00) for unlimited travel on the Metro, buses, trolley-buses and the Tram.
These tickets are valid for 24 hours or a week respectively, after their validation.
It is very important to valid the ticket first time you use the offer.
There are special Ticket Validating Machines and on all Metro and Suburban you validate before you go onboard. On Tram, Buses and Trolley-buses after getting onboard.
Remember that trips to and from the airport are not included.

For more information about all means of transportation call: 185.
(in different languages and from 0600 till 23.00. Local call charge from fixed and cellphone)

Baggage storage:
There are baggage storage service at Athens International Airport at the Arrivals level.
Personal service, but a little bit expensive. Contact telephone: 210 3530 352.

Lost property:
Athens International Airport - 24 hours: 210 3530 515
173 Alexandras Ave.: 210 6476 000 and 210 6421 616

Lost or stolen credit cards:
Visa toll free: 00800 116380304(not cell phone)
Mastercard toll free: 00800 118870303(not cell phone)
Diners: 210 9290 200
American Express: 210 3397 250