Deep well & the nature after the forest fire. August 2010.
A short story about a deep well, plus how fast the new life starts after the forest fire..
---
One of our friends at Samos, Fotis Giannou told us once that his father and uncle many years ago had made a well on their parents' property up in hillside. Today Fotis owns the property and just after the fire in beginning of August we have shown pictures from the same property here on www.samostour.dk.

When we visited the area just after the fire, we were not informed about the well.

In the end of the 1920's Theodoros and Vassilis Giannou

(father and uncle of Fotis) tried to make their dreams come through.

They started digging a new well (??G??? – Pigadi) on their fathers' farm close to the hilltop between Kokkari and Mitilini.

Every day during two summers (we are not sure the exact years) they made the well deeper and deeper. They only used hand tools, such as sledge hammer, shovel and pickaxe.

Only ropes, basket and a very simple hoist were used for lifting the basket with stones and for bringing the person who worked at the bottom of the well up to the top and daylight.

The diameter at the top is about 3 meter and when they finished the digging the well was between 60 and 75 meter deep. This means that they removed about 600m3 of stones, only by hand. Fabulous.

After two seasons with digging they stopped.

THEY FOUND NO WATER AT ALL.

They did not wanted to give up finding water, so they began digging another well closer to Kokkari and there they found water -a lot of water- just on a depth of 6-7 meter.

Fotis & Torben looking at some of the burned area.

The hilltop

Fotis & Jan close to the well.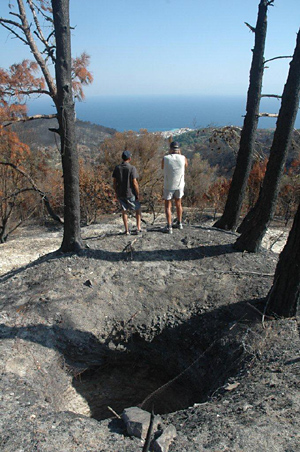 But don't step back when taking pictures !
There is no fence around the well.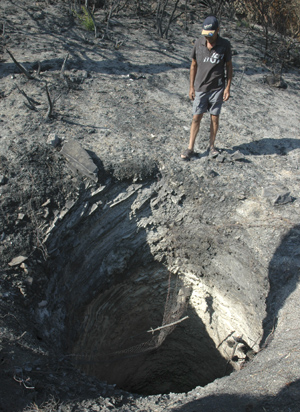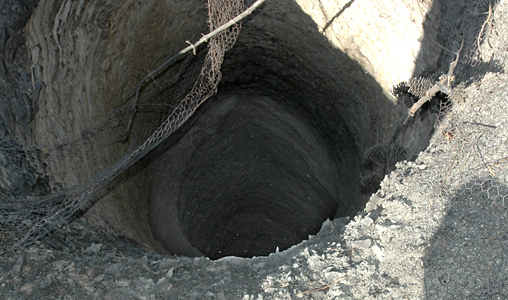 Fotis by the well & and a look down in the deep... Now after many years the well is "only" about 20 meters deep, but still extremely dangerous. When the herdsmen are in the area with their goats and sheeps they always stand very close to the well to insure that the animals do not come too near.
---
The following pictures shows how fast the nature "self-repair" and new life is created in the ashes after the forest-fire.
The pictures are taken only 3½ week after the fire.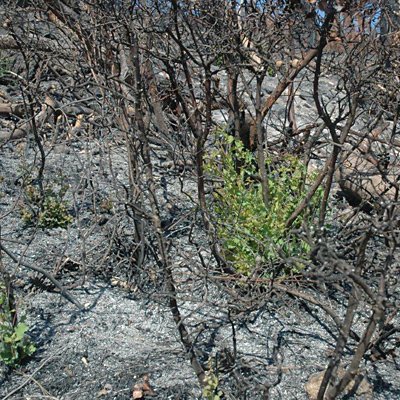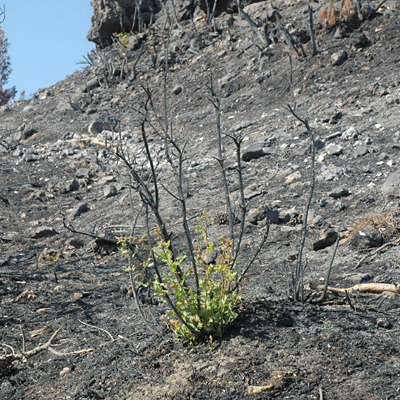 Some of the new plants are close to ½ m. high.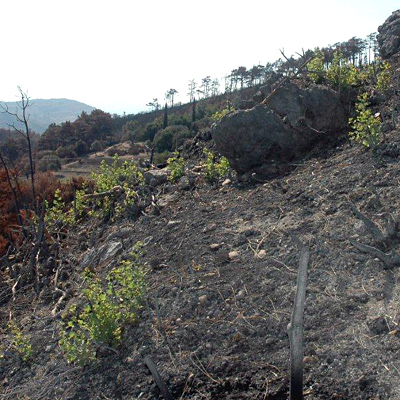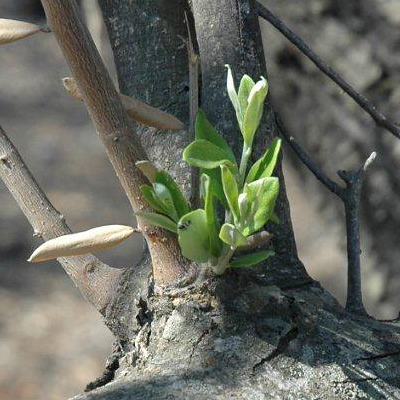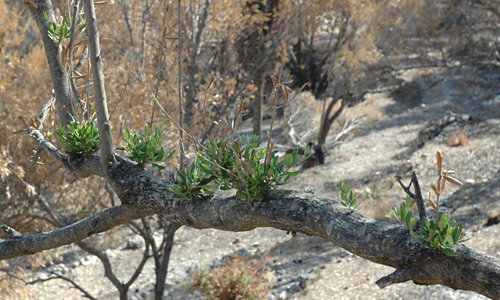 Burned olive branch with new leaves.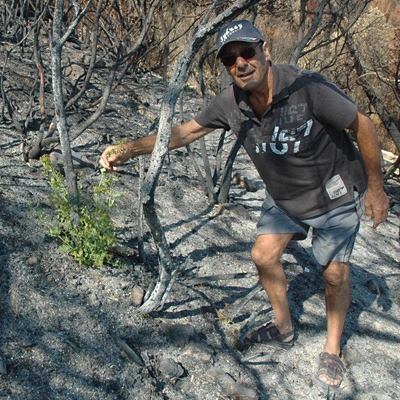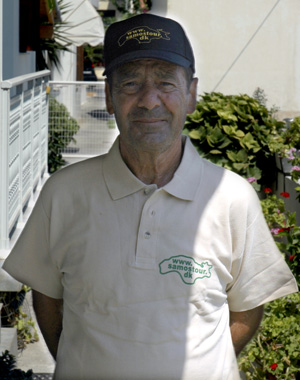 Fotis showing the size of the new vegetation.. After the tour Fotis got the "Samostour-uniform" to prove full membership of the explore team.
Thanks Fotis for all the information.