By Psili Amos.
| | |
| --- | --- |
| | |
| Show map | Hide map |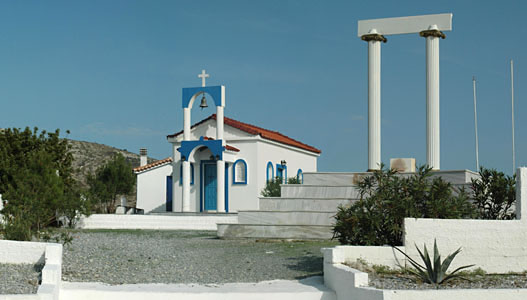 Here by Agh. Chrysostomos Smymis there is a Nice view. The pictures are all from Nov. 2007. We visited the place to see if the flamingoes had arrived, but no sign of them yet. They will arrive in December.

The saltlake "Alyki Vetland" was earlier used for evaporating salt. Now it is a sanctuary for birds. From May to September/October there is no water in the 'lake' only a thick layer of white salt.
In the left side of the panorama are the remains of the salt factory and the Eastern part of Mykali Beach.
The old salt factory.
People on Mykali Beach in November.
Water temp: 22 C. (Air: 25 C.)

View from the above shown Church againt the Turkish coast with the small Greek island Vareloudi in the foreground.

Click on the Flamingo picture or here to see the flamingo pictures from December 2006.