| | | |
| --- | --- | --- |
| | Travel agencies Goofers.... | |
Very good (and unintended) advertisement for Kokkari!!
(the most wonderful place on Samos!)

2 Danish travel agencies (Spies & Skibby Rejser) have 'only' Pythagorion on their Samos program, but both of them use pictures from Kokkari in their marketing of Pythagorion.
It is in their catalogues and on their websites as well. I wonder if it is a coincident, that they also are using the same pictures!! I agree with them - Kokkari is wonderful !



 

Skibby's "Pythagorion pictures":

One from the harbour promenade

and one from the small passage to

the square - both in Kokkari.

 

 



(Skibby: found & mailed to "Skibby" 27 Oct. 2005 - same pictures in use 11 Jan. 2006 ! )
---
(Spies: found 11.January 2006 & mailed to Spies - pictures on web changed 13 Jan. !)
---
One more: ving.no does it also !!
(and they do it well)
Like the 2 Danish agencies Ving 'only' have Pythagorion on their program, but look at the top of their Pythagorion page - where are the pictures from ?? Yes - from KOKKARI !

Both pictures shows the harbour promenade in Kokkari.
The text: 'Pythagorion- "tourist capital" with a smell of jasmine. A beautiful pearl with many possibilities for own trips and experiences. Here stays Ving's most satisfied Greece-guests.' ( Where are they staying ? In Kokkari or Pythagorion??? )
Ving's catalogue isn't better than the Danish agencies catalogues. A picture from the western beach in Kokkari is called 'The beach in Pythagorion' (page 166), and from hotel Damo in Pythagorion it should be possible to look all the way to the harbour promenade in Kokkari (page 168).
(found 11.January 2006 & mailed to Ving - pictures on web changed 13 Jan. !)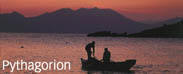 One of the new pictures is a very beautiful sunset picture with a little boat
seen from the harbour in ... Kokkari !
---
What about ving.se ?

They are using another picture - from Kokkari !!
(The picture in the middle is from the harbour in Kokkari.)
(found 12.January 2006 & mailed to Ving )
GOOF AGAIN!!
Changes made - Now Ving is using a big picture from KOKKARI !!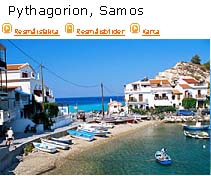 ( found 2. February 2006 )
---
Ving.no & Ving.se now co-operates in making the same errors !!
Both advertising for Pythagorion with these pictures: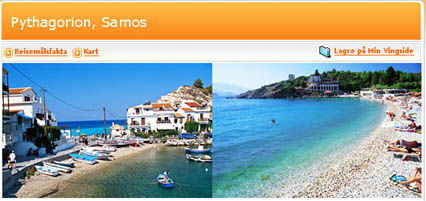 From the harbour in kokkari & Gangou Beach by Samos town.
Why are they using pictures from the NORTH-side of Samos when their
destination is the SOUTH-side ?? Hopefully they send their guests to the
right island ! Now we wait to see the next GOOF !
( found 2. Marts 2006 )
6. Marts 2006: Ving.no are now OK. (Very quick change !!)
Ving.se still uses wrong pictures!
---
Falk Lauritsen Rejser has also joined the 'club'...
Falk Lauritsen Rejser has travels to Samos town and Pythagorion.
On their web (catalogue) they tell about those two places, BUT
3 out of 6 pictures are from the KOKKARI area !
Pictures from Falk-Lauritsens catalogue:
| | | |
| --- | --- | --- |
| | | |
| Kokkari 'east-beach' | View from Kokkari harbour | Lemonakia beach (north coast). |
(found 16.January 2006 & mailed to Falk Lauritsen Rejser.)
(Reply: They were busy, and had not time to answer mails.
Suggested to contact them by phone - will NOT be done ! )
---
It is a little strange, that all these agencies who obviously find Kokkari very attractive don't sell travels to that place.
---
If you have some 'funny Samos stuff' (story or pictures) you want toshare with others, then send us a mail, and we will put it on this page.