Take care of Samos !
This paper with picture of fire in the nature, is given to airpassengers to Samos.
We fully support the information. so here it is: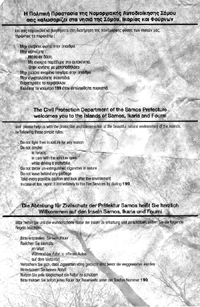 The Civil Protection Department of the Samos Prefecture welcomes you to the island of Samos, Ikaria and Fourni
---
and please help us with the protection and conservation of the beautiful natural environment of the islands by following these simple rules:
Do not light fire in nature for any reason
Do not smoke:
In forests
in cars with the window open
when driving a motorbike
Do not throw un-extinguished cigarettes in nature
Do not leave behind any garbage
Take every possible caution and look after the environment
In case of fire, report it immediately to the Fire Service by dialing 199.
---
Samostour has an appeal to the Greek authorities:
Please inform all the inhabitants about this, and if necessary take the relevant steps to prosecute those, who are using the wonderfull nature as a big 'dump'.