From our guests
This page is open for your Samos related PICTURES & TEXT.
Send pictures & text to:

(Text may be shortened by webmaster)
---
From Carel Schut. (07-09-2012)
Hello Jan and Torben
At first a very nice website, I look everyday on the webcam to see Kokkari..
here I send a picture I made in last may. I took the walk from Potami to Micro Seitani and Megalo Seitani. This is a fantastic walk. I was there all alone on that small and beautiful beach. One day I hope to go to Drakei from Potami by foot.
The 28st of september we go again for only one week. I love Samos and specially Kokkari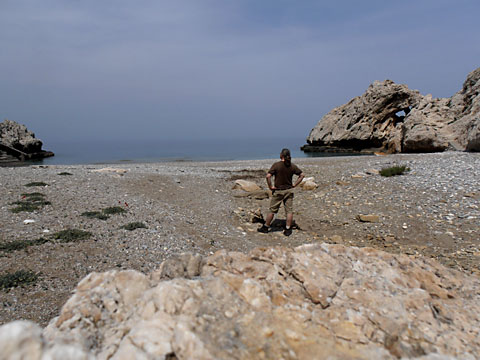 maybe for the guestspage.
Best Regards Carel Schut, Terschelling
(Also a beautifull island in the north of Holland)
---
From Olaf Büscher.
Hi, Torben and Jan,my name is Olaf Büscher, I'm living in South-Germany (near Stuttgart) and I'm a hardcore-fan of Samos.
Me and my family have been a lot of times in Kokkari, that's why I know Giannis Goulielmos very well (and even "Smokey", it was one of a lot of bikes, I rented from Giannis and my daughter Anke has learned motorbiking with Smokeys help).
Andreas Kotzos (Tavern at the end of the world) gave me your address. What's the reason I contact you now? In August I'll finish my job, then I'll stay often in Kokkari for more than a few weeks. I' m just waiting for a house or rooms to rent for longer time – Giannis is looking for. And when I stay in Samos, maybe I would like to help you – if you are still interested in help.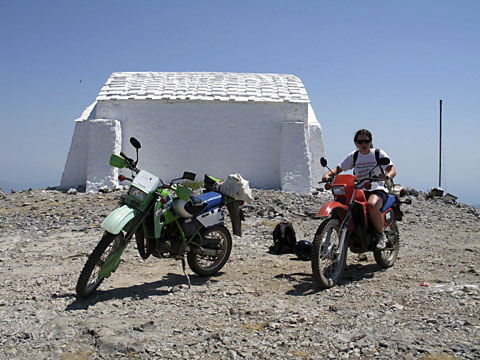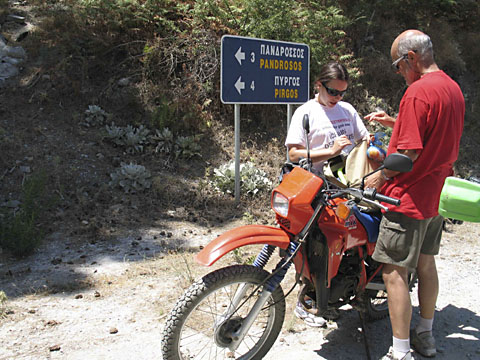 The pictures are from 2007 – perhaps you know the red bike?
(I will never forget 'Smokey' / Torben)
Best wishes from Germany
Olaf
---
From Janet de Jong 05-07-2012:
I took this picture last friday morning (29 june) as I left Samos. A great last view on Kokkari. It is not completely sharp, but there was only short time and only one chance. Best regards,
Janet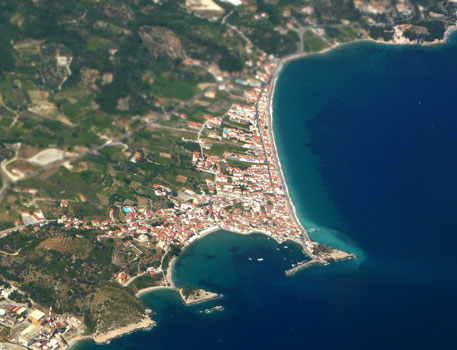 (The picture is corrected a little by webmaster)
---
From Bert Hazeleger 25-03-2012: Here please receive this photo's for your site if you wish. You may use them any time. Regards from Bert Hazeleger. Good luck and thanks for sharing your samostour feelings!
---
From Benny Hansen 30 Jan. 2012:

DK: Denne Blomst Fotograferede jeg på en af mine Traveture ovenfor Kokkari; jeg har set den før på Kreta; men denne slog dog alt hvad størrelsen angår. Min Kasket siger lidt om størrelsen. Hilsen Benny.

UK (Translated by webmaster): I took a picture of this flower on one of my walks above Kokkari; I have seen it before on Creete, but this one beated everything as regards the size. My cap shows a little about the size. Regards Benny.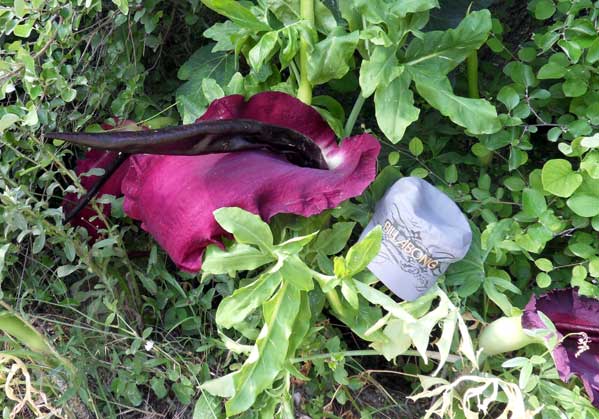 It is a DRACUNCULLUS VULGARIS. In Greece it is called Drakondia. It is known under many different names: the Dragon Arum, the Black Arum, the Voodoo Lily, the Snake Lily, the Stink Lily, the Black Dragon, the Black Lily & Dragonwort. In scandinavian it is called 'Dragerod' (names added by Samostour).
---
From Frank Picken 31 May 2011:

I have been visiting Kokkari for some 20 years and staying in the La Plage hotel. About 17 years ago, I experimented with the art of pebble painting and introducing some children in the village to the art. Examples of my work can be found at La Plage, Cavos coffee bar and the Meltemi restaurant. This year (May12 to May 26), I painted the attached stones, the cat went to Alice, the landlady of La Plage. It's a pleasant hobby and if anyone would like any tips, I would be happy to share these with anyone who may be interested. E-mail: This email address is being protected from spambots. You need JavaScript enabled to view it.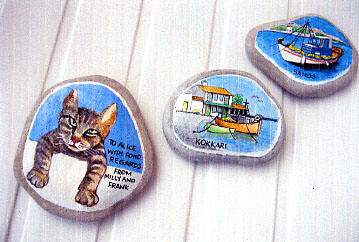 ---
From Seppo Mäkinen: Here are some pictures of the tornado in Kokkari 23. June 2010
(pictures are taken from Hotel La Plage).
---
Received from: Andrea Zengaffinen 19. februar 2011.
Pictures from Easter 2010. (click on the pictures to enlarge)
---
Jyllands-Posten 14. februar 2008.:
En lille græsk perle af Tommy Jervidal.
(efter tilladelse fra JP & T. Jervidal)
En meget fin beskrivelse af Samos og spec. Kokkari.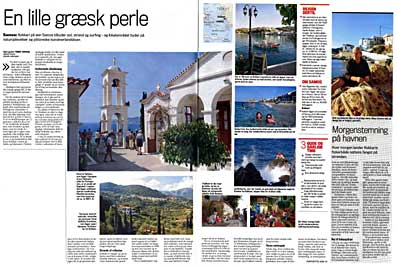 Hele artiklen kan hentes i PDF format ved klik her: Perlen
Translation IS difficult !! But some times also very funny!!
Picture received 2508,2007 from Niels-Erik Dam.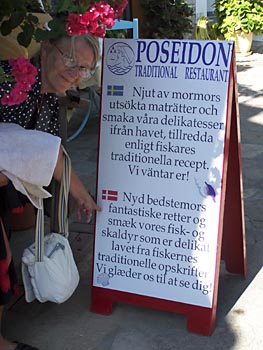 The Danish text on Poseidon's poster says:
"Enjoy grandma's fantastic dishes and SPANK our fish- and shellfish...."
(Smæk vores fisk...)
Why ?? Every one have the right to guess..
As Niels-Erik wrote: We would like to go there and borrow a fish, and then just sit at Poseidon and spank it !!